Do you need to move or service a pool table? SOLO Miami Pool Table Movers offers the highest level of protection in the industry.
We are a company in the industry offering support seven days a week.
Professional and experienced services by SOLO
Guaranteed by a national organization IN WRITING
Call the professionals at SOLO® to get your free quote and schedule your service.
Your satisfaction has made us the industry's largest and most reliable billiard table service company.
Professional Pool Table Movers in Miami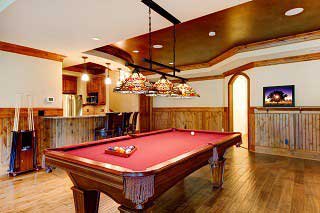 Moving a pool table by the Pool Table Movers SOLO® of Miami guarantees the performance of your billiard table. Three phases should always be followed to ensure a safe and smooth pool table move. Careful piece-by-piece disassembly, transportation of these pieces to the end location, and professional pool table setup with expert leveling.
When taking apart a table, we carefully salvage the existing felt so it can be reused. We also offer pool table refelting using new cloth at installation time for an additional cost. This is the best time to have this service taken care of since the table is in pieces.
If you've ever asked yourself, where could I find qualified pool table movers near me? Look no further! We also offer professional pool table moves and repairs in the following areas. Miami Beach, Gladeview, Key Biscayne, Coral Gables, West Little River, Pinewood, Miami Springs, Hialeah, Westview, Westchester, Latin Quarter, Brickell Hammock, Shenandoah, Little Havana, Buena Vista, Fisher Island, Fort Lauderdale, West Palm Beach and other areas around Miami.
Our team of installers is experienced in all types of moves. When we finish, we will ensure your table is in the best playing condition.
Pool Table Movers SOLO® Are Qualified for all types of Billiard Table Services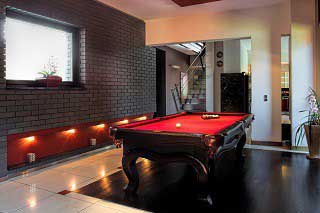 Our team of pool table movers offers an expert pool table installation service for new and used pool tables. Installers come to your home, cover bumpers, seal slate seams, and professionally level all three slates using precise leveling equipment.
Additional Services We Offer
–Breakdown, transport to storage– We will dismantle and transport your table to storage or on-site facility.
–Pool table setup– Installation of a table that is in pieces.
–Pool table recovery of an installed table– Refelting a billiard table set up. We will disassemble the table, put new felt on the slate and bumpers, and then level and install the table for you.
–Relocation for carpet or flooring installation– We can disassemble a billiard table and move it into another room or building while you replace your floor or do another general remodeling.
–Removal from storage– Remove a table that is in pieces from storage; we can bring it to your home and install it for you.
Do you need to have a pool table repair taken care of? Our professional pool table movers will ensure you are cared for, whether a residential or commercial service. We are well-trained in our area of expertise.
Also, see our Pool Tables for Sale In Miami listings if you want to buy or sell a table.
Choosing the right pool table installers for your job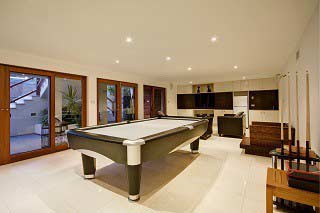 What are your choices when you have a great billiard table to move? Our history as a family-owned business in the billiard moving and assembly industry spans over 40 years.
We are the only company offering a written guarantee covering everything the other guys charge extra.
Traditionally, pool table installers are a one or two-man service with no customer support, guarantees, or legal businesses. Our team can fill those weaknesses with our customer support team, who are always available, even when the installer isn't.
We have taken the business to a higher level, and our mission holds today as it did a decade ago. Improving client experience in the billiard industry is our primary cause. Our installers and team of professionals give our clients a risk-free service. We are entirely dedicated to raising the standards in the billiard service industry.
We will break down your table or move it from storage facilities, your garage, or another room. If you need carpet installed, do not try to move your pool table! Are you taking the table out of storage? We can expertly install the pool table for you.
Our pool table installers strongly advise refelting with a new cloth during assembly.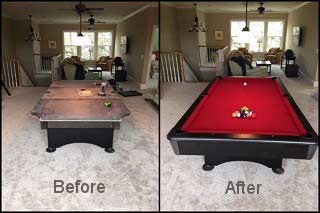 If you're adding new cloth at the time of installation, with notice, we can have the material ready.
Our customers can choose from over 30 different colors of pool table felt. We use the industry's highest-quality pool table cloth. Our exclusive guarantee also backs the cloth against tears or manufacturer's defects.
Our professional pool table installers also work with standard woolen pool table cloth and tournament-grade worsted materials. Are you unsure which size table to pick? Our pool table sizes chart helps identify the pool table size for a room.
Pool table installers backed by an exclusive guarantee in writing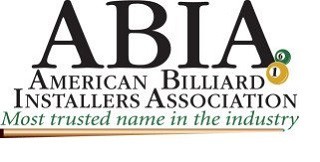 The only national organization in our industry backs the SOLO® Pool Table Movers of Miami. We are associated with the ABIA. We are the only company that offers an exclusive service guarantee IN WRITING by the American Billiard Installers Association.
Professional pool table installers work with standard woolen pool table cloth and tournament-grade worsted materials. We also offer shuffleboard movers services. Contact us to get your quote and schedule your service.